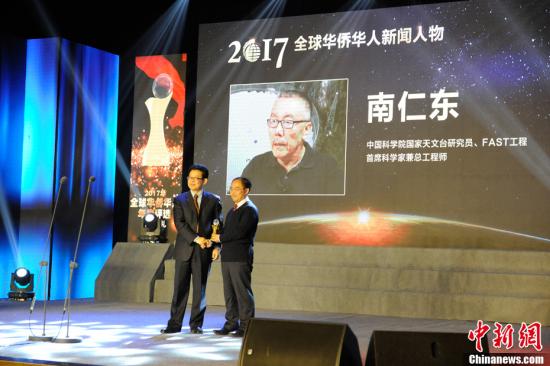 A winner of Overseas Chinese Newsmakers of 2017 receives award at the award ceremony held in Beijing, Jan. 10, 2018. (Photo/China News Service)
(ECNS) -- Renowned scientists, politicians and car racers were among the winners at the Overseas Chinese Newsmakers of 2017 awards.
Huang Danian, late geophysicist who had returned to China from Britain and contributed greatly to deep earth exploration technology, Chinese physicist Chen-Ning Frank Yang, computer scientist Andrew Chi-Chih Yao and Chen Guoji, advisor to Panamanian President Juan Carlos Varela, were among those awarded in Beijing.
The winners also included Elaine Lan Chao, the 18th and current United States Secretary of Transportation, French MP Buon Tan, and eight Harvard researchers who collectively returned to China.
Nan Rendong, the founding scientist of the Five-hundred-meter Aperture Spherical Radio Telescope (FAST), and Chinese-Canadian lawmaker Soo Wong, who pushed the legislature of Ontario to pass a motion recognizing Dec. 13th each year as "Nanjing Massacre Commemorative Day" were also among the winners.
Auto-racing drivers David Cheng and Ho-Pin Tung were both commended with an award for having achieved records in the world's top-class races.
The awards were organized by China News Service and www.chinaqw.com, a website dedicated to news, information and services regarding overseas Chinese.
Qiu Yuanping, head of the State Council's Overseas Chinese Affairs Office, called for Chinese across the world to help write a new chapter in China's development.