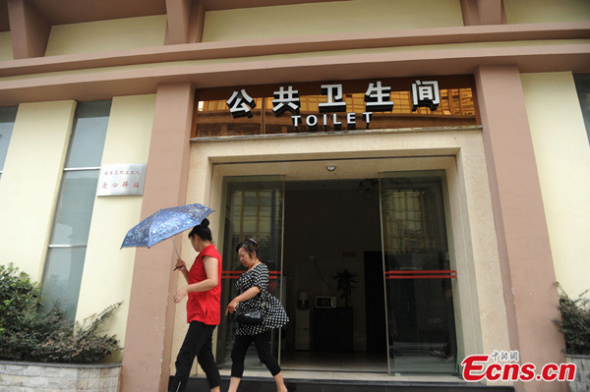 File photo shows a "star-level" public toilet at Nanbin Road of Chongqing Municipality. (Photo/China News Service)
(ECNS) — Li Jinzao, head of China National Tourism Administration, has vowed to further carry out the "toilet revolution" across China to improve public services.
Li said China will implement a new three-year act to address toilet concerns through the use of technology and improved management in both urban and rural areas.
A mechanism will also be introduced to assign public toilets a specific steward.
Li said it takes scientific planning to build toilets and that so-called "five-star" toilets will be banned. Five-star toilets usually feature costly materials and elegant interior design as well as unnecessarily luxurious equipment.
China had built 70,000 toilets at tourist attractions by the end of 2017, surpassing the original goal of building 57,000 facilities three years ahead of schedule.
About 64,000 more toilets will be built or renovated over three years to remove a major nuisance for travelers and develop domestic tourism, said Li, adding financial and policy support would also be introduced.