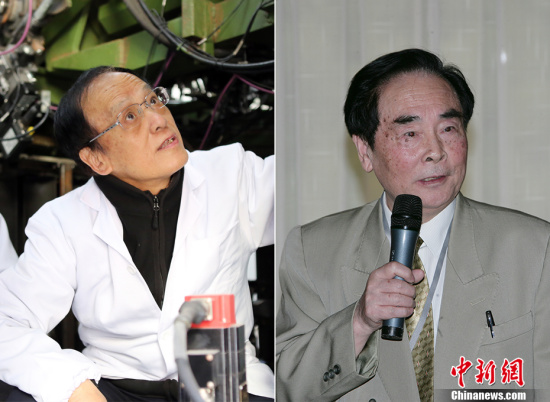 Wang Zeshan(L) and Hou Yunde. (File photo/China News Service)
(ECNS) -- Two Chinese scientists who won China's top science award have both promised to donate their prize money of 5 million yuan each to research.
Explosives expert Wang Zeshan of Nanjing University of Science and Technology, 82, and virologist Hou Yunde, 89, received the top award certificates presented by Chinese President Xi Jinping at an annual ceremony held in Beijing.
Wang said it's natural to donate the money to support team building because all progress is a result of team effort. He said he plans to establish a youth support fund to encourage more young people to engage in scientific research.
Wang, born in 1935 in Jilin City of Jilin Province, graduated from the PLA Military Institute of Engineering in 1960. A well-known scientist, he also spearheaded the civil-military integration of administrating explosives and power sources.
Wang won the first-class State Scientific and Technology Progress Award in 1993, and then the first-class State Technological Innovation Award twice, in 1996 and 2017.
Hou Yunde, born in Changzhou City of Jiangsu Province in 1929, graduated from Tongji University in 1955, and earned his PhD in the Soviet Union during 1962. Hou is regarded as the founder of the country's research into molecular virology, modern medical biotechnology and control as well as prevention of major infectious diseases.
A total 29 scientists have been awarded for their outstanding contributions to scientific and technological innovation since the top science award was established in 2000.