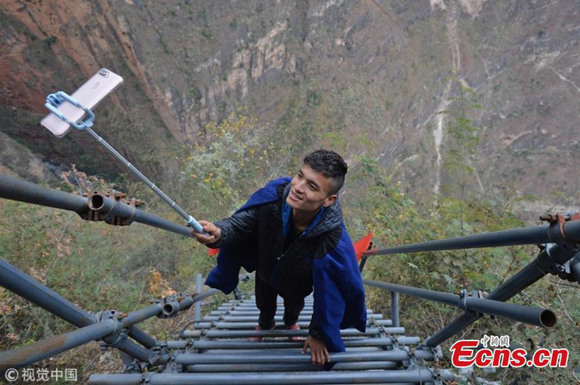 Yang Yang, an online celebrity, makes live streaming webcast with a selfie stick and introduces the scenery of the "cliff village" by climbing a steel structure stair on the cliff in Liangshan Yi Autonomous Prefecture, southwest China's Sichuan province, Dec. 15 2017. (Photo/VCG)
(ECNS) -- A remote southwestern village that made international headlines in 2016 because children climbed bamboo ladders on a cliff face to get to school is now closely connected with the outside world thanks to Internet access, and even produces popular cyber celebrities.
The village of Atuleer in Liangshan Yi Autonomous Prefecture of southwest China's Sichuan Province is known as the "cliff village" on a peak some 800 meters high. Stories about the village went viral after photos showed schoolchildren climbing the cliff to go to school using dangerous bamboo ladders, the only access to the village.
Months later, local authorities replaced the decaying bamboo with solid steel ladders. Although children still need to climb the ladders with their hands and feet, almost all of them said that it is much safer and quicker to go home now, according to a Xinhua report.
With the Internet getting through, bigger change came, though it was only available 70 kilometers away before the village was connected in June. In the six months that followed, the village's young people took full advantage of the isolated village's fame to generate financial gain.
China's live streaming industry is booming, with people broadcasting virtually anything on the Internet, from cooking to playing computer games. Cyber-broadcasters usually expect to be paid with cashable gifts.
Some in Atuleer Village are live broadcasting their climbs on the steel ladders or farming work on the mountain, and others choose to sell local specialties online, Beijing Youth Daily reported.
Labo of the Yi ethnic group, 24, helped build the steel ladders. After Internet became available in the village, he began broadcasting his daily routines, including climbing the ladder, crossing the suspension bridge or simply herding goats. He gained 126,000 followers in five months.
The young man used to make a living doing farm work and earning about 8,000 yuan a year in the past. But today, he can earn hundreds of yuan by walking along the cliff road.
Labo's friend Yang Yang live broadcasts village life for three hours every day, mainly introducing local specialties. He now has more than 50,000 followers on a video streaming platform where he sold 40 kilograms of honey in recent deals.
Yang also receives tourists from across the country and earns an income by guiding them around.
Moseerti, in his forties, said he often checks the prices of herbs online or learned about new growing techniques. He and others have launched a rural cooperative, planning to market local herbs.