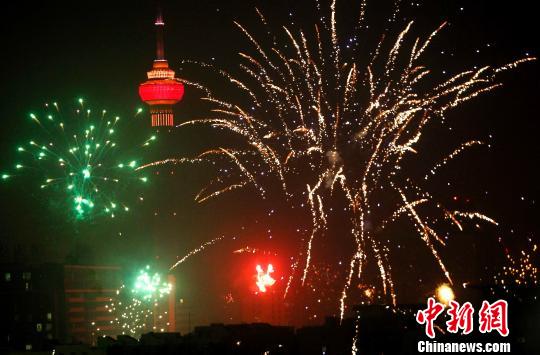 Fireworks were played to celebrate Chinese Lunar New Year. (File photo/China News Service)
(ECNS) -- North China's Tianjin has banned setting off any fireworks within its Outer Ring Road starting Jan. 1 amid new efforts to fight air pollution.
Tianjin, a municipality over 100 kilometers southeast of Beijing, previously limited firework displays within the 71-kilometer-long road that encircles the it since December 2014.
From Jan. 1, the city will introduce its strictest measure to ensure a firework-free Lunar New Year, China's most important festival for family reunions. The sale of fireworks within the Outer Ring Road area are also banned in Tianjin.
It has been a tradition for Chinese people to celebrate the holiday by setting off firecrackers and fireworks believing the light and sound would scare away evil spirits. However, air quality often deteriorated rapidly due to the use of fireworks.
Amid smog concerns, many cities in China have implemented measures forbidding or limiting firework displays. Beijing now bans setting off fireworks within the Fifth Ring Road. Changsha, capital of Central China's Hunan Province, and Hefei, capital of East China's Anhui Province, have both designated areas for firework displays.