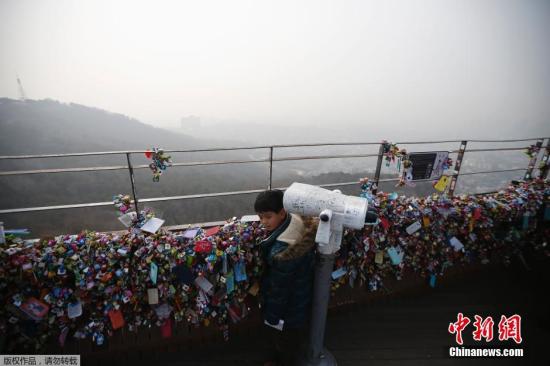 A boy is seen at the top of N Seoul Tower. (File photo/Agencies)
(ECNS) - The Ministry of Ecology and Environment has denied media reports that China is behind recent air pollution in South Korea.
Liu Youbin, spokesperson for the ministry, said China has made continuous, dramatic improvements in controlling air pollution.
Air pollutants in Seoul on Nov. 6 and 7 mainly came from the city itself, locally produced rather than from China, said Liu. The intensity of PM2.5 – fine particulate matter of 2.5 microns or less – in Seoul has remained stable or increased slightly.
From 2015 to 2017, the concentration of nitrogen dioxide, a major air pollutant in Seoul, was actually higher than in Chinese cities such as Beijing, Yantai and Dalian.
Liu also said China has cooperated closely for many years with neighboring countries including South Korea to fight environmental pollution and has contributed to regional air quality.
A research report on air pollutant transmission in northeast Asia by scientists from China, Japan and South Korea will be released by the end of next year, according to Liu.