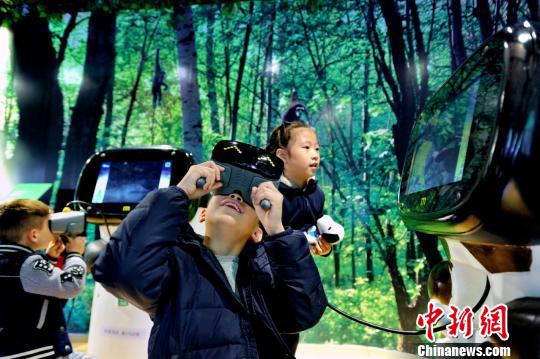 Children experience VR technology at Guangzhou Zoo. (Photo: China News Service/Chen JingWei)
(ECNS) -- A VR facility is set to debut at Guangzhou Zoo starting Jan. 1, 2018, when visitors will not only be able to view rare animals, but also interact with them, with the help of virtual reality technology.
Surrounded by prehistoric animals, species from any corner of the world will be ready to heed your call.
Watch an Asian Elephant walk on your palm, a dinosaur revive from a pile of sand, or jump straight into an African savannah.
This VR zoo is set to become a calling card for south China's Guangdong Province.
It will open online to animal fans from across the globe, according to Chen Zujin, a staff member in charge of science education at Guangzhou Zoo.
"We're feeling our way forward," said Chen, adding that in future, they would combine VR technology with animal research and wild animal protection.