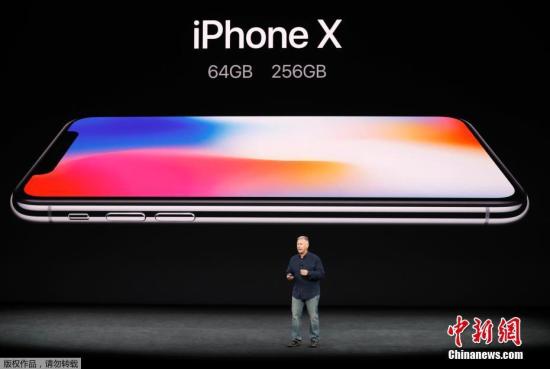 Apple released its iPhone X. (File photo/Agencies)
(ECNS) -- Prices of iPhone X sold by Chinese distributors slumped below those on Apple's website just two days after its official release on Nov. 3, Beijing News reported.
The price of a 64 GB version was set at 8,388 yuan (about $1,261) while the 256 GB version came in at 9,688 yuan.
But in China, a black 64GB iPhone X was sold for 8,450 yuan (about $1273), a silver version for 8,150 yuan, a black 256 GB version for 9,750 yuan and a silver one for 9560 yuan, according to a quotation sent by an iPhone channel partner via WeChat on Sunday.
Sufficient stock and Chinese consumer rationality led to the declining prices, while high prices scared off many consumers, said an iPhone scalper.
However, it's too early to say that iPhone X has failed, said independent IT analyst Tang Xin.
Although sales volume of iPhone X did not keep pace with its predecessors like iPhone 4 and 6s, it came with expectation, Tang added.
As the iPhone 8 and 8 plus went on sale across the globe in September, Apple stores saw shorter-than-expected queues. Prices of this series dropped quickly on the market.
Apple reported on Nov. 3 that for the company's fiscal fourth quarter, which ended Sept. 30, it made a revenue of $52.58 billion, a year-on-year growth of 12 percent, while net profit was $10.71 billion, increasing 19 percent.
iPhone X will bring more revenue and profit than the iPhone 8 series, but I don't think Apple can reach its past peak, Tang said.