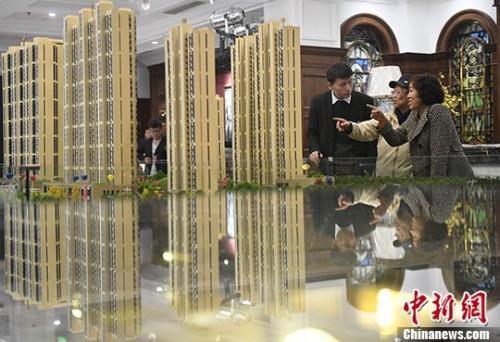 A property consultant offers advice to customers. (File photo/Chinanews.com)
(ECNS) -- A research report by the Chinese Academy of Social Sciences (CASS) said home prices are turning stable in most Chinese cities and will fall slightly in the real estate sector this coming year.
The report showed prices in most cities increased by less than 2 percent in September compared to a year ago. But Chengdu, Guangzhou and Hangzhou reported 6.89 percent, 5.42 percent and 3.97 percent year-on-year growth.
Home prices in Beijing, Zhengzhou, Shanghai and Tianjin dropped by 1.52 percent, 1.04 percent, 0.76 percent and 0.58 percent respectively.
The report said the latest round of governmental measures launched in March to cool the residential market have now achieved good results, with Langfang City in Hebei Province registering the biggest drop, some 24.89 percent, in six months. It was followed by Beijing (12.02 percent), Tianjin (9.26 percent), Hefei (0.74 percent) and Shanghai (0.43 percent).
The report also suggested that China has implemented efforts to crack down on speculative property investment following the conclusion of the 19th National Congress of Communist Party of China. Financial incentives that could spur another round of price rises are gone, according to the report.