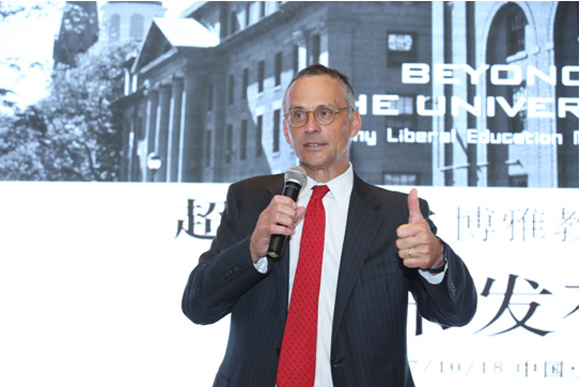 Professor Michael S. Roth gives a speech at the release ceremony of his new Chinese version book in Shanghai, Oct. 18, 2017. (Photo/Chinanews.com)
(ECNS) -- Professor Michael S. Roth, president of Wesleyan University, recently brought the Chinese translation of his new book Beyond The University: Why Liberal Education Matters to China.
At the book launch, the professor explained the origin and development of liberal education in four historical moments that he characterized under the rubrics of "liberate, animate, cooperate and instigate."
He analyzed the needs of talent training in the current global economic environment and successful cases among alumni from Wesleyan University, a private U.S. liberal arts college with a great reputation.
The professor gave a full introduction of talent-nurturing ideology and methods of liberal education. "It connects academic studies and practice, and emphasizes the importance of interdisciplinary studies, which greatly benefits the general development of modern society," he said.
Why do we need more liberal education?
The economic crisis that swept the entire world in 2008 stirred great controversy among education circles in the U.S.. Then, Professor Roth had only been in the office of Wesleyan University president for one year.
A similar pattern recurred in American history during great economic recessions, big migration waves, or other major economic or social upheavals. Against this backdrop, many public opinion leaders called for education to be narrowed down in orientation to provide trained expertise in more specific fields.
"Nevertheless, liberal education, which explores broadly based knowledge and fully develops student talent on the basis of this knowledge, is able to create many meaningful projects, and thus many significant achievements," Roth said, adding that when students graduated and stepped into society, they were able to spread more meaningful and valuable techniques, capacities, and ideas across society. They thus help create economic opportunities and solve many visible social problems.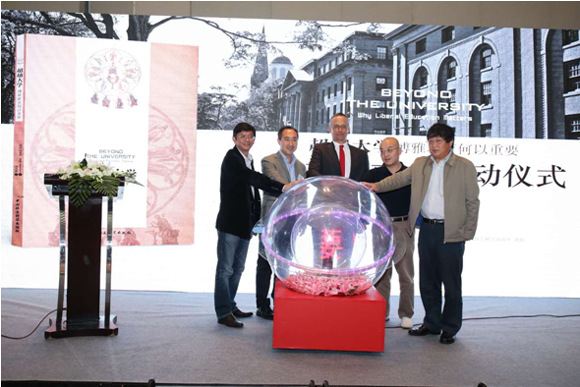 (From left to right) Chen Zhaohua, co-president of Beijing Time, Wang Xuning, head of Joyoung Co., Ltd, Michael S. Roth , president of Wesleyan University, Liu Jian, director of The Economic Observer, and Chen Tong, CEO of Particle News, attend the release ceremony of the book in Shanghai, Oct. 18, 2017.(Photo/Chinanews.com)
Liberal education nurtures cross-over and interdisciplinary expertise
As professor and lecturer, Roth has nurtured many talented students in his long-time practice of liberal education.
Diana Farrell, founding president and CEO of JP Morgan Chase Institute, is a typical example. While studying at Wesleyan University, she majored in social studies, combining economics, philosophy, and politics (PPE). She had a wide range of interests in college, and was active in stage opera and music class.
After graduation, she worked as Global Head of the McKinsey Center for Government, and deputy director of the National Economic Council in the Obama Administration. Her versatile education background and cross-over work experiences enabled her to spot consumer behavior habits amid an ocean of data, and employ a formulae for improving public administration.
Roth said excellent industry leaders like Farrell gained a solid foundation of knowledge and skills through liberal education, and thus had deep roots that sustained their professional development. They have also nurtured talents to think and take action spanning different fields, finding connections and relationships, which others did not see, which helped them coordinate businesses and broad economic resources.
More excellent American students choose liberal education
More and more American students and parents give priority to top-tier liberal arts colleges when choosing schools. For example, Wesleyan University has received as many as 12,543 applications in the past one year, which set an historic record.
Roth explained that liberal education will promote a greater initiator spirit and entrepreneurship among younger generations. More importantly, students will look at social issues and opportunities with new perspectives after gaining knowledge and experience across different fields at school.
It amplifies the "creativity", which is urgently needed in modern society, the professor said.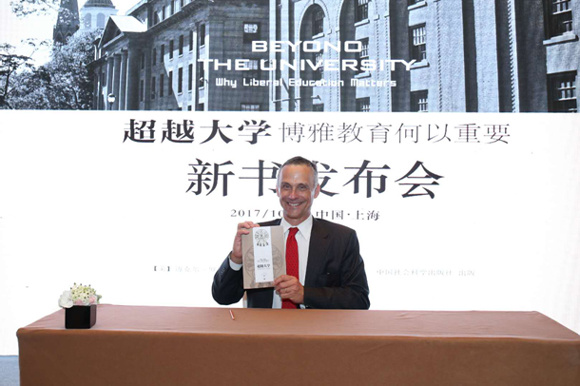 Professor Roth displays his new book Beyond The University: Why Liberal Education Matters, in Shanghai, Oct. 18, 2017. (Photo/Chinanews.com)