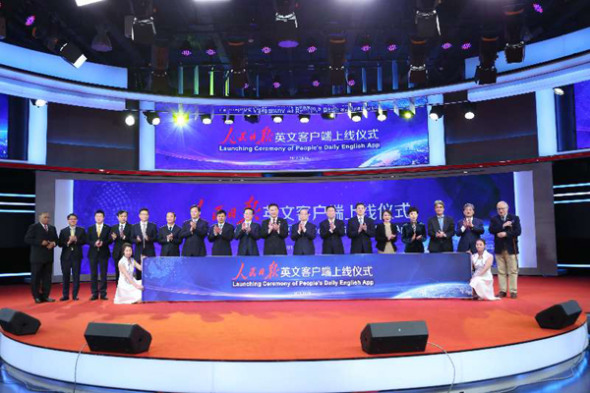 Leaders of People's Daily and invited guests pose for a photo at the launching ceremony of English-language news app in Beijing, Oct. 16, 2017. (Photo provided to ECNS.cn)
(ECNS) -- People's Daily, the flagship newspaper of the Communist Party of China (CPC), launched its English-language news app on Sunday, marking a key step to better "connect China and the world."
"China has never been so close to the center of the world stage. China's development remains a huge opportunity for the world, and cannot be separated from the common developmental aspirations of all countries," said Yang Zhenwu, president of the newspaper, at the launching ceremony in Beijing.
"A stronger China needs to present itself to the world. The changing world is eager to know more about China. The international community expects China to share its experience, expound on its propositions, propose solutions and contribute its wisdom, which is also an inevitable phase of its development," Yang said.
The app was launched three days before the opening of the 19th CPC National Congress. "We will take this opportunity to provide timely coverage of the Congress, the latest insights of the CPC to the world, and the new blueprint of China's development," the president said.
The app will become a platform for international users to get news, viewpoints, and concepts about China, it was added. And the app's "service" section will take on a major role inside the platform, providing a window for overseas users to explore China.
"In the future, this app will not only be People's Daily journalists telling the story of China and the world, but will also include the efforts of our strategic partners, and will deliver vivid and diverse stories on China to the world," said deputy editor-in-chief of People's Daily Lu Xinning, who also attended the ceremony.
The newspaper inked strategic cooperation agreements at the launching ceremony with the International Liaison Department of the Central Committee of the CPC, the Ministry of Foreign Affairs, the Ministry of Education, the Ministry of Commerce, the Ministry of Culture, the China National Tourism Administration, the State Administration of Cultural Heritage, and the Palace Museum in Beijing.