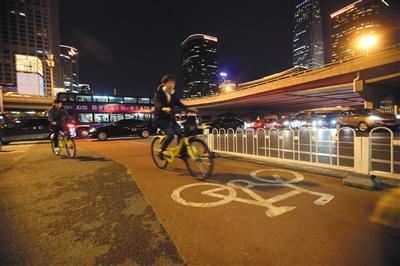 Citizens ride on a bicycle lane in Beijing, Oct. 11, 2017. (Beijing News)
(ECNS) -- Beijing is planning to build its first bicycle expressway to facilitate the link between large apartment complexes, an official with the capital's road maintenance and management center said on Wednesday.
Construction of the closed bicycle speed-way, a trial project that would link Tiantongyuan, in Changping district, and Zhongguancun, the so-called Silicon Valley of Beijing, in Haidian, would start next year, said Gan Feng, a deputy director with Beijing's road maintenance and management center in a radio program on the city's traffic congestion problems.
The bicycle expressway would be nine kilometers long, and five to seven meters wide. It would be built in double layers, Gan said, adding that overpasses would be built in some places.
"The bike expressway will help residents living in Tiantongyuan, Huilongguan, and Shangdi to commute to Zhongguancun by bike," Gan said.
A report from the city's planning institution said that about 20 percent of people living in Huilongguan had jobs in Zhongguancun, and 16 percent of them worked in Shangdi.
However, the design of high-speed roads such as Jingzang and Jingxin were not convenient for transporting people between Huilongguan and Zhongguancun, which made the 10 kilometer road difficult to travel.
Vehicles, motor vehicles, and tricycles were not allowed on the bike expressway, Gan said.
Chen Yanyan, vice-president of the transport college of the Beijing University of Technology, said it was difficult for a public transport service to satisfy personal travel needs in regions such as Huilongguan, but bikes were a good supplement. It was necessary to test the building of a bicycle expressway in this region.