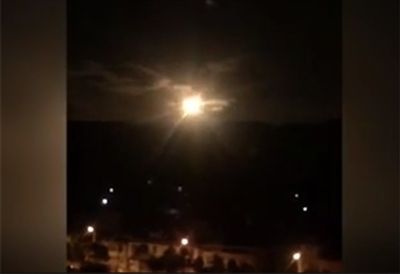 Video screenshot shows a fire ball drops near Shangri-La County in southwest China's Yunnan Province on Oct. 4, 2017. (Photo/Video screenshot)
(ECNS) -- A Chinese scientist said meteorites sold online were fake, with none found after parts of an asteroid hit Earth near Shangri-La County in southwest China's Yunnan Province on Oct. 4, reported the Chinese-language newspaper Modern Express.
Meteorite hunters from across the world flocked to Shangri-La following reports of the possible hit, while some online stores lost no time putting so-called meteorites on sale asking 8,000 to 10,000 yuan ($1,200 to $1,500) per stone and even as much as 20,000 yuan a gram. One store claimed it offered Martian meteorites.
"Meteorites have yet to be found," said Xu Weibiao, a scientist with Purple Mountain Observatory at the Chinese Academy of Sciences. "Moreover, 99 percent of the meteorites sold online are fake."
According to satellite data from NASA, an asteroid entered the atmosphere about 40 kilometers northwest of Shangri-La, resulting in an explosion equivalent to 540 tons of TNT, slightly stronger than the 450-ton explosion in the Xilingele event of 2014.
Because the asteroid moved at a speed of 14.6 kilometers per second relative to Earth and blasted apart at the relatively low altitude of about 37 kilometers, unburned meteorites and debris could have reached the ground, the paper said.
But Xu said all scientists have is video footage of two explosions that occurred during the hit and that it was hard to precisely identify the trajectory of the asteroid. Chances are slim that any meteorites will ever be found, Xu said, noting "it is like dredging for a needle in the sea."
Only after meteorites were found could they be analyzed and identified using scientific processes, he added.
But for meteorite hunters, nothing seemed impossible. Off-road vehicles, GPS, drones and other gadgets were all used during the treasure hunt, according to the paper.