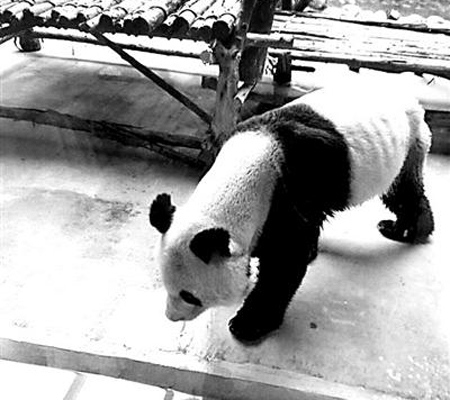 A skinny giant panda at Xi'an Qinling Wildlife Zoo. (Photo provided to Beijing Youth Daily)
(ECNS) -- An aged giant panda at Xi'an Qinling Wildlife Zoo has been diagnosed with pulpitis, a type of toothache, and has not been eating much in recent days, according to the zoo, in reply to netizen questions as to why the panda was looking extremely thin, Beijing Youth Daily reported.
Three online pictures of a listless and skinny giant panda at the zoo triggered heated discussion recently. "Why does a panda look like this?" one comment read. "Aren't they usually chubby and lovely?"
A person in charge of the zoo said the aged panda in the photos was suffering from pulpitis before the National Day holiday, making it difficult for it to eat.
The panda had been looked after by veterinarians, and is presently recovering, it was added. The public will not see it until it feels better again.
Tooth disease is a serious disease that could threaten a panda's life, according to Yong Yange, a senior engineer with Shanxi Foping National Reserve and director of its giant panda research center.
Once a wild panda suffers tooth disease, it will be hard for it to consume food for a period of time, which could cause malnutrition or even death, so professional and timely medical treatment is needed, Yong said.