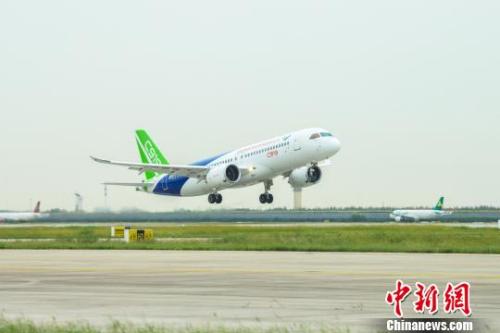 A C919 jet plane, China's self-developed jetliner, takes off in the second test flight. (Photo/Chinanews.com)
(ECNS) -- Both of China's self-developed jetliners, the C919 and ARJ21, made test flights from Shanghai to Nantong, located in east China's Jiangsu Province, on Thursday morning.
The C919 took off at 7:22 a.m. from Shanghai's Pudong International Airport and landed at 10:08 a.m. in Nantong, fulfilling preliminary testing after flying two hours and 46 minutes.
The C919, developed by Commercial Aircraft Corporation of China (COMAC), reached a flight level of 10,000 feet. Both the flight time and area doubled its successful maiden flight on May 5.
A series of tests of the C919 have been conducted since May. The jetliner is set to make intensive flights at the Pudong airport in coming months before it is moved to Xi'an, Shaanxi Province, for further trials.
Separately, the ARJ21 regional jet made a test flight that lasted two hours and 15 minutes at the Shanghai Dachang Airbase, successfully completing nine tests.
So far, two ARJ21 jets have been delivered to Chengdu Airlines and put into operation. Four have made test flights in Fujian, Qinghai, Shanghai and Shandong for route expansion and design optimization.
China's home-grown regional aircraft ARJ21 are on the assembly line at the Dayang base of the Shanghai Aircraft Manufacturing Co., Ltd., COMAC. (Photo/China News Service)
Fu Guohua, deputy chief designer of the C919, said it takes about three years before jets are put into operation after completing test flights.
The ARJ21 jets have been test-flown more than 5,000 hours over a period of six years.