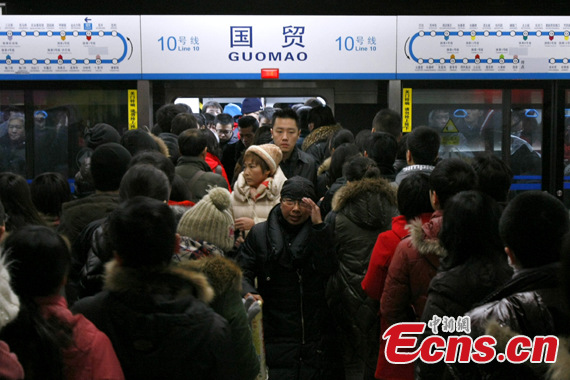 Passengers take Subway Line 10 in Beijing. (File photo/China News Service)
(ECNS) -- With a population of 21.7 million, Beijing is likely to see a turning point in its population numbers in 2017, with a possible drop in residents amid transformation, said a report.
The Blue Book of Social Work in Beijing jointly complied by Beijing University of Technology, Municipal Committee of Social Work and Social Sciences Academic Press found the city had a population of 21.7 million in 2016, a yearly growth of 2.4 percent.
Among them, 13.6 million people had a Beijing hukou, or household registration, an increase of 177,000 over 2015, while the rest were permanent residents who have migrated from other areas.
One noticeable change is a big fall in permanent residents without a Beijing hukou, a first in the city. In China, the hukou is often closely related to a person or family's access to public services such as education and healthcare.
Growth in the permanent population of Beijing has been falling since 2010, with more significant declines in 2015 and 2016. Only 24,000 were newly added permanent residents in 2016.
Beijing might have negative growth in its population this year, the first time in 20 years, said the study. The city only recorded a population decrease one time before, in 1997, since opening up and reform started in 1978.
The report said Beijing's massive efforts to move out "non-capital functions" have contributed to the population change. The city has sought to address its "urban ills" such as traffic congestion and air pollution by curbing its population growth and transferring facilities to nearby regions.
A survey showed 73.6 percent of respondents are satisfied or very satisfied with the city's social governance, a rise of 6.8 percentage points from 2012.