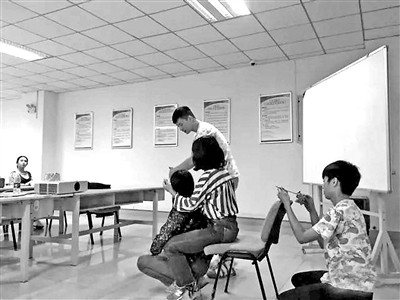 A teacher instructs students how to shoot videos in the class. (Photo/epaper.ynet.com)
(ECNS) -- A college in the southeastern city of Chongqing has caused heated debate for offering students a new training program on how to gain fame online, calling it "innovative practices to meet employment demands."
The Chongqing Institute of Engineering is now cooperating with a local communications firm to train students on how to make live video streaming a hit. It has attracted 19 students, mainly from those majoring in e-commerce and marketing.
The course at the school of management includes tips on online broadcasting, making better-quality short videos and how to interact with audiences to persuade them to donate gifts, a major income source for broadcasters. The course started on Sept. 19 and will last for three months.
It has drawn much concern from netizens about its curricula, faculties and negative influence on students.
A teacher at the school said students apply for the course voluntarily, but must meet the firm's conditions on language skills, physique and appearance. The firm will hire those it likes at the end of the course.
An official with the institute said despite the program's name of Cyber Celebrity School, it's actually just a joint training course designed to explore new job opportunities. The purpose is to make innovative efforts between the school and business, and also cultivate high-quality talent to the live streaming sector.
In China, live video broadcasting is growing ever popular as youngsters are more willing to share almost everything online from field survival skills to playing games and talk shows for fun or fame.
One student registered with the free course said most students are women and the curriculum includes performing and psychology. "I feel it's great and I can become famous if I do well," one student said.
The company added that those not enrolled at the institute can also apply for the program but at a cost of 3,980 yuan ($604). It also promised abundant career opportunities.
But Chu Chaohui, a researcher with the National Institute of Education Sciences, said schools need to be prudent in developing a training course on online fame as a new major since it will take time to judge if Internet celebrity can become a new occupation.