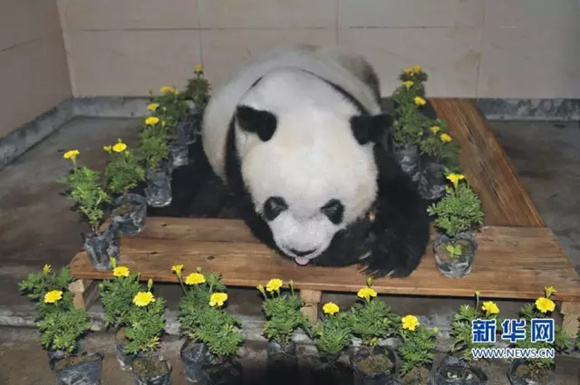 Panda Basi. (File photo/Xinhua)
(ECNS) -- Basi, the world's oldest captive giant panda and mascot prototype of the 11th Asian Games, has died at age 37, over 100 years in human years, in Fuzhou City, East China's Fujian Province.
"Giant panda star Basi died at 8:50 a.m. on Sept. 13, 2017 at the age of 37," Straits Giant Panda Research and Exchange Center in Fuzhou said. Chen Yucun, head of the center, said Basi, being old and weak, had suffered from liver cirrhosis and renal failure since June, and that all rescue efforts failed.
The female panda was born in 1980 in Baoxing County, Sichuan Province. Basi was named after Basi Valley of Baoxing County. She was relocated to the Fuzhou center in 1985 after all the bamboo in her native habitat died off.
In 1987, Basi was loaned to San Diego Zoo for six months, where she amazed millions of visitors with her acrobatic performances. In 1990, Basi became a household name after being chosen as the prototype for Pan Pan, the mascot for the 11th Asian Games held in Beijing. A year later she rose to stardom after performing in front of millions during Spring Festival Gala.