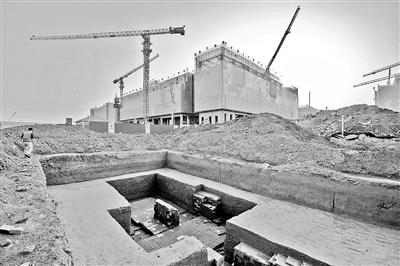 This undated photo shows an ancient tomb that was discovered in Tongzhou District, Beijing's new subsidiary administrative center. (Photo/Beijing Youth Daily)
(ECNS) -- Over 2,000 ancient tombs from different times in history, including Tang Dynasty (618-907) and Liao Dynasty (916-1125), have been unearthed at construction sites for Beijing's new subsidiary administrative center in Tongzhou District, Beijing Youth Daily reported, adding that exploration work on underground cultural relics is halfway complete.
From Feb. 2 to May 14, about 276 ancient tombs were uncovered, with over 1,000 pieces or sets of cultural relics unearthed, including pottery, porcelain, bronze, gold and silverware.
"I had no idea that there are so many cultural relics underground before taking this job," said Zhang Yan, an engineer with ENN Group, which is in charge of the construction over a 15-square kilometer area. "Archaeologists explored over 1,000 square meters each day to keep construction progressing."
An ancient Tang Dynasty tomb discovered is believed to belong to Ai Yan, a county official. Not far away, another Tang tomb was also unearthed, whose owner was an imperial doctor.
A Liao tomb, believed to be the best preserved of its period, was also found. Its inside walls were decorated with colored bricks and reliefs. Articles and goods such as wine sets were still on the table, Zhang said.
The tombs of Tang and Liao dynasties will be moved out of the original site entirely as they affect the construction plan. Ai Yan's tomb will be moved 30 meters north and marked with a sign. One Liao tomb has been placed in a steel container and transported miles away for exhibition.
Beijing's efforts to build a subsidiary administrative center are to cure "urban ills," including overpopulation, traffic congestion and smog. It is expected to relocate about 400,000 residents from the city center to the suburban district.