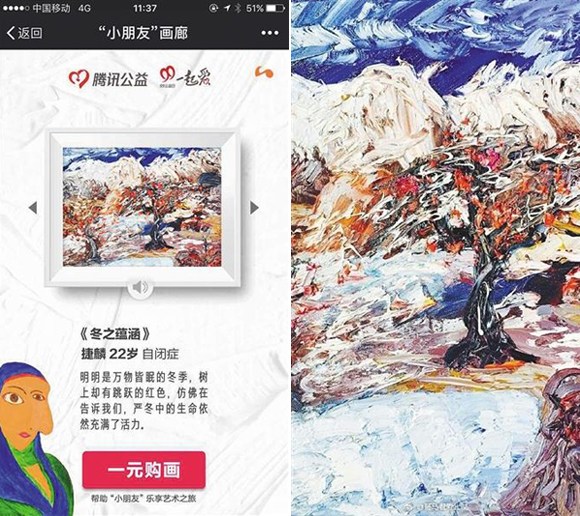 Paintings drawn by the mentally disabled.
(ECNS) -- Tencent Charity said it has raised 15 million yuan ($2.27 million) by selling copies of 36 paintings created by the mentally disabled, with the money to be used in helping them better integrate into society, Beijing News reports.
The charity refuted a rumor that there was an institutional investor behind the program, saying it would not keep a penny from the donations as the money will be put directly in a public charity.
It added that it would publicize how the money is used on a regular basis and the public can supervise and enquire about usage via the social networking platform WeChat.
Copies of the paintings were sold for one yuan each. Buyers can admire them or use them as computer screen wallpapers.
The campaign kicked off on Aug. 17 with a target of 15 million yuan. It attracted over 5.8 million donors before fundraising was concluded on Tuesday afternoon.
The works were created by people suffering from autism, intellectual disabilities, cerebral palsy and other mental challenges who study art at WABC, a non-profit organization engaged in art education for the disabled. The artists ranging from a few years old to over 40 are from Shanghai, Guangzhou, Shenzhen and other cities. Most had studied painting at WABC for about three years.
A staff member at Tencent Charity said WABC provied it with 50 paintings, from which 36 paintings were selected, all auhtorized for use and reproduction by the aritists.
Miao Shiming, founder of WABC, said he "seemed to have discovered an unfamiliar world", adding that the mentally disabled knew how to express themselves and were even more capable of thinking independently.
Wang Qiaoru, mother of Jie Lin, who was diagnosed with autism when he was six and a half years old, said his son loved painting and worked so diligently that their rented home was filled with his creations.
With her son's works drawing so much attention, she said "He didn't know, but I'm happy for him."
But Song Xuejiao, a Beijing-based lawyer, said sponsors of the campaign were suspected of infringing upon copyrights as they had shown no authorization documents from either painters or their guardians for use of the work, or given any explanation about intellectual property rights.