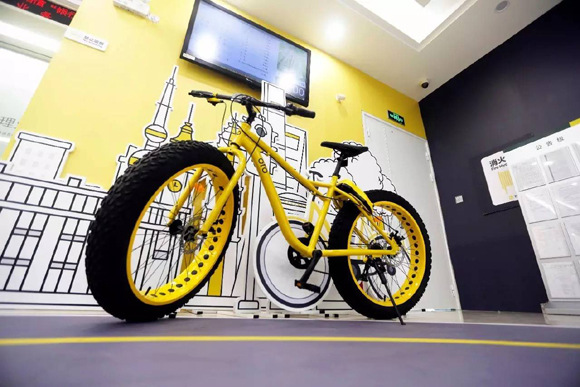 An Ofo bike is seen in an Ofo themed post office. (Photo/International Financial News)
(ECNS) -- Competition between Ofo and Mobike, the two major players dominating the Chinese shared-bike market, has become even fiercer, Chinese media reported.
Ofo has now started cooperation with China Post in Shanghai to launch an Ofo themed post office. The walls inside are painted yellow -- the main color of Ofo bikes, and the floor includes a yellow zebra crossing. A sporty Ofo bike welcomes visitors.
Patrons can send a postcard to their friends and family free of charge. Other items in the post office, including posters, notebooks and ballpoint pens, feature the style of Ofo bikes.
Mobike, Ofo's major competitor, is cooperating with Disney to offer Mickey Mouse-themed bikes in Shanghai.
China's internet giants Alibaba and Tencent are also involved. Ofo announced a deal with Alibaba in March enabling riders to use its Sesame Credit service to make a deposit. Mobike agreed with Tencent this month to allow WeChat users to ride Mobikes five times a week without a deposit payment.
Statistics from CNNIC said by June this year about 106 million Chinese people rode shared bikes, a number equal to 14.1 percent of all Internet users in the country.
The Ministry of Transport jointly issued a guideline with other departments in August requiring shared bike companies to regulate services andriders to use their real identities.
A report issued by the Beijing-based internet consultancy Analysys in June showed that Ofo has a 51.9 percent market share in China and Mobike 45.2 percent. Other bike sharing companies, which number more than 28, provided services to less than 4 percent of users. Wukong Bike and 3Vbike have closed due to intense competition
The top two are also eyeing overseas markets. Mobike announced it begin operations in London on Aug 1. It now has 6 million bikes in 150 cities of five countries, with users totaling over 100 million across the globe.
Ofo said it has 8 million bikes in 170 cities of eight nations, with average daily ridership surpassing 25 million globally.