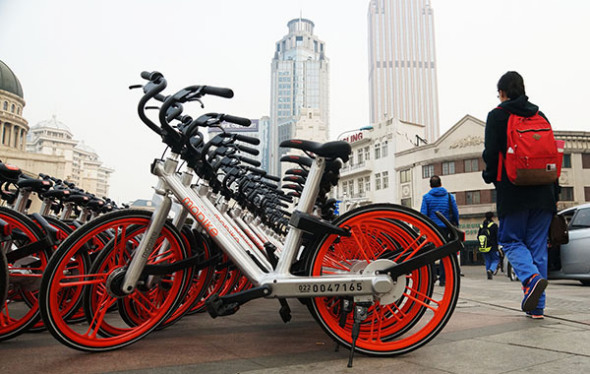 (File photo)
(ECNS) -- Bikes provided by sharing services for the public cannot be used by children under 12 years of age, according to a new guideline jointly issued by 10 government departments, including the Ministry of Transport.
The guideline, aimed at better regulating the industry, also requires bike-sharing service providers to sign agreements with real-name registered users.
The companies have a responsibility to clearly notify users of fees and standards, the guideline said.
Bike-sharing companies are required to purchase personal accident insurance for their users, and work to formulate a system for handling user complaints.
The government departments said such services make short-distance trips more convenient for commuters and play a positive role in building a green transport system in cities.
The guideline also encourages the use of a free deposit service, in order to protect users' capital and private information. Bike-sharing companies should create a specific bank account to manage the funds, and improve deposit refund systems. The deposit account should be supervised by transport and financial departments.
In addition, the internet servers of bike-sharing companies should be established on the Chinese mainland.
The guideline also requires related departments to develop fair competition rules and protect the legal rights and interests of various sides. Local government authorities are responsible for improving bike-transport networks in cities, the guideline said, adding that governments should look to build bike paths on roads and provide more parking spaces for bikes.
Electric-bicycle rental services were not encouraged.