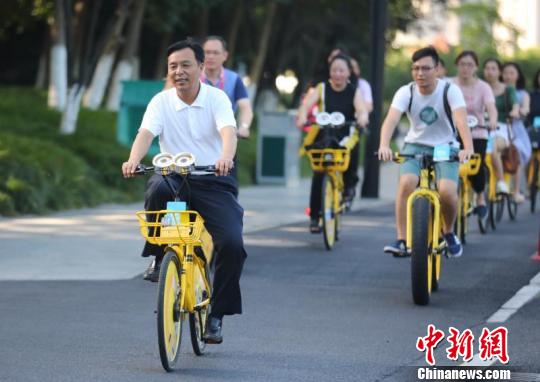 People experience shared bikes in Hangzhou, Zhejiang Province. (Photo provided to Chinanews.com)
(ECNS) -- Pressures from transport congestion have begun to ease in Chinese cities thanks to the emerging bike-sharing industry, according to a report.
Traffic began to ease in the second quarter of the year in 80 of 100 cities studied, said the report by the Ministry of Transport, online map company Amap, and the Tsinghua University-Daimler Center for Sustainable Transportation Research.
Tianjin, Qingdao and Wuhan topped the list of improved cities, the first time they have seen a reprieve since Amap began to monitor urban congestion in 2014.
Beijing, Jinan, Harbin, Chongqing, Guangzhou, Hohhot, Shanghai, Changchun, Xi'an and Shijiazhuang are the 10 most congested cities in China, said the report.
Factors that helped relieve congestion included improved urban road networks, better transportation management and new regulations on online taxi services that reduce short trips by car, the report said.
The use of shared bikes also helped improve urban transport. According to data from Ofo bikes, congestion has eased in 19 cities that use their cycles. Amap data also showed that congestion around Beijing's subway stations had been reduced by about 4 percent.
Hu Huichun, a senior analyst with Sublime China Information, told local media the use of shared bikes also reduces the consumption of petrol. About 1.4 million metric tons of gasoline was saved this year by sharing bikes, Hu said, equivalent to 1.1 percent of the total used.