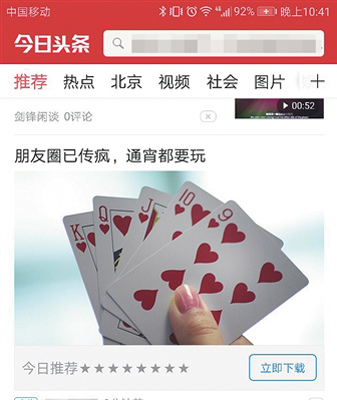 An ad for gambling app on Jinri Toutiao. (Photo/Beijing News)
(ECNS) -- News aggregation apps by leading Chinese internet firms have been found touting illegal ads for gambling programs often promoted by marketing agents, Beijing News reported.
Many players told the paper they found advertisements for gambling apps when they read news on China's popular mobile browser UCBrowser, news aggregators Jinri Toutiao and Baidu Mobile.
A man surnamed Jia from Hubei Province said he lost more than 100,000 yuan ($14,700) gambling after he installed an app that appeared on Jinri Toutiao and playing it for three months. Li Jie, a university postgraduate student in Anhui Province, also downloaded a poker game app after seeing it on UCBrowser.
A report by the Beijing News found many ads for gambling apps on Jinri Toutiao from late June to early July. These ads usually appeared between headlines and turned up after every six items of news. A click on the link usually led to app downloads of gambling games.
An industry insider said illegal gambling apps usually make their appearance on formal news service apps through the help of third-party agents who control use of the ad space.
Zhang Wei from one such agency based in Beijing's Tongzhou District claimed it could also help advertise products for weight loss, breast enhancement and sexual performance, all which are banned from being advertised in China.
Zhang added the pay-per-click ads for gambling programs are usually displayed at times when news aggregation apps have relaxed censorship, such as in the evening.
News aggregators can easily identify the problem promotions, but they appear to turn a blind eye due to financial pressure.
A salesperson for Jinri Toutiao also admitted that apps targeting gamblers could pass review and be advertised on the platform if the wording is not explicitly about gambling.