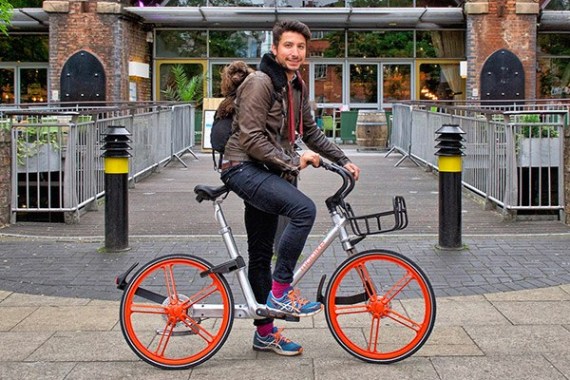 A user rides Mobike's shared bikes in Manchester. (Photo provided to China Daily)
(ECNS) -- Klaus Schwab, founder and executive chairman of the World Economic Forum, applauded the business model and technical innovation of China's Mobike on June 27, adding that he would support globalization of the company "with pleasure."
Schwab met Hu Weiwei, founder and president of Mobike, ahead of the Annual Meeting of the New Champions 2017, also known as Summer Davos, in Dalian, northeast China's Liaoning Province. [Special coverage]
With new integrated high-tech technology such as smart-locks, built-in GPS and connection with the IoT network, Mobike has more than 5 million smart sharing bikes in more 100 cities across the world including Beijing, Shanghai, Singapore, Manchester, Fukuoka and Sapporo.
Mobike is a pioneer in the bike sharing industry, Hu told Schwab. It has become the world's largest Internet-based transport service provider, with its bikes used by people about 20 million times a day, Hu said, adding that she aims to put company in 200 cities by the end of the year.
It conducts surveys and research into local economies, market development and the transportation environment before entering a city, Hu said, adding that the company holds discussions with local transport sectors to improve trust and communication between all sides. Hu said she believes Mobike would win favor among users globally through its image of innovation, environmental protection and high quality services while promoting green development by relieving traffic congestion and reducing air pollution.
Schwab applauded Mobike's business model and innovation, and said he appreciates what it has accomplished in promoting green travel and smart cities. He said the new business also has lots of opportunities and challenges in the global market.
The World Economic Forum would like to use its rich resources to help innovation in companies such as Mobike to further expand across the world, he explained.