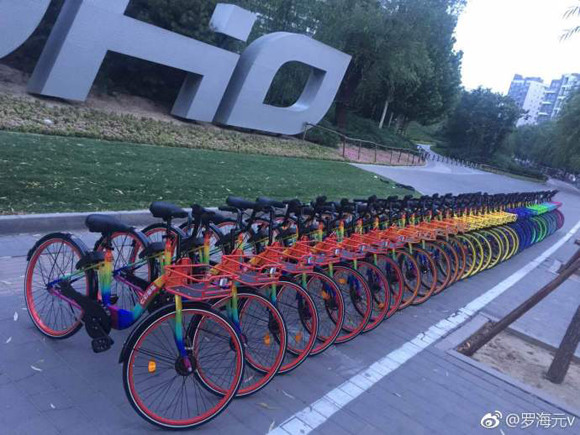 Colorful sharable bikes appear on the streets of Beijing. (Photo/Weibo account of Luo Haiyuan, founder and CEO of the seven-colored bike company)
(ECNS) -- A colorful new fleet of sharable bikes has been turning heads on the streets of Beijing.
The "seven-colored bikes" come in seven designs, each different from each other when it comes to the color of their frames, wheels and baskets. They are available in red, orange, yellow, green, blue, indigo and purple.
The sides of the bikes' wheels also have reflective layers that make them glow in the dark, according to Luo Haiyuan, the founder and CEO of the bike company. "It feels like riding on wind-fire wheels in the night," some internet users commented.
The shared bikes are equipped with solid tires and smart locks, and require a deposit of 99 yuan ($14.5) to use. They would be launched in Beijing, Shanghai, Guangzhou, Shenzhen and Nanjing first, and then in other southern Chinese cities, according to Luo.
Users could opt for a different color each day, and "that will make people feel happy," he said.
Some black and gold bikes have also been spotted among those available to share, but internet users have asked for even more variety.
As new players eye the shared bike market, the fledgling industry could still win investment, Luo said, adding that he believed the market could be expanded further. The "seven-colored bikes" received angel investment of 10 million yuan last month, and the series A round of funding, about 170 million yuan, was being prepared, Luo said.