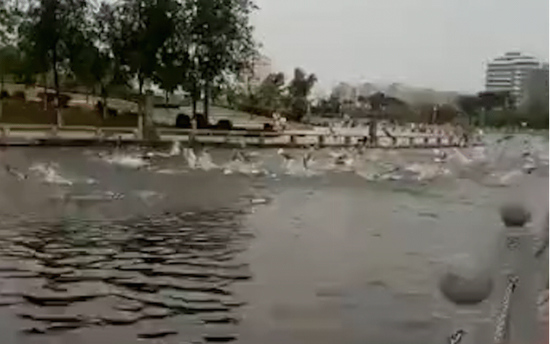 A video clip shows a large number of fish jump on the surface of a lake in Jiaozuo City, Henan province. (Photo/Video Screenshot)
(ECNS) -- Park managers in Jiaozuo City, Henan province, denied online speculation that silver carp seen jumping wildly in a lake were a warning of an imminent earthquake.
An online video showed a large number of the fish jumping on the surface of the lake, with some flying out of the water completely and landing on a wooden pathway.
The video was shot in Boai Park in Jiaozuo at about 4:30 p.m. on June 13, a local employee told the China Youth Daily.
The employee said that an audition for a singing contest was being held at the time, which generated a lot of loud noise that spooked the fish. Silver carp are timid by nature, he added.
All kinds of fish jump above the surface of the lake, but the water would also become dirty and milky if an earthquake was on the way, he said. But the water quality of the lake did not change considerably, according to the local earthquake office's investigation.
He also denied online speculation that the fish were jumping because of an electricity leak. Each electrical line in the park is housed in a protective case, which would immediately break the power connection if a leakage was detected, he said.
Things returned to normal at the park after experts explained the reasons behind the jumping fish, all of which were returned to the lake.