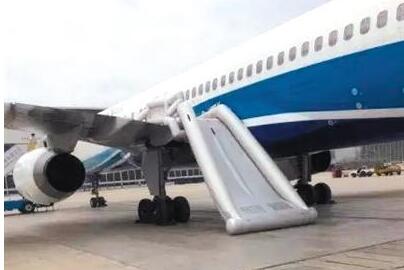 An emergency inflatable slide on a jetliner is activated at the Beijing Capital International Airport, June 12, 2017.(Photo/Chongqing Morning Post)
(ECNS) -- Beijing police said on Tuesday that a woman was detained for 12 days after she activated an emergency inflatable slide on a jetliner waiting at the Beijing Capital International Airport to fly to Xiamen, Fujian Province, Beijing News reports.
The woman's behavior stunned passengers on the Xiamen Airlines Boeing 757 when a staff member warned that the inflatable slide can only be opened when there is an emergency. The flight was canceled and the 113 passengers onboard were rearranged to other flights later in the day. The woman might also face huge fines.
According to the newspaper, an executive from Xiamen Airlines said the minimum cost for fixing the slide was about 100,000 yuan ($14,700) if there was no damage to its airbag. Otherwise, the direct loss could hit approximately 450,000 yuan.
Indirect losses, including the flight cancellation, rearrangement of passengers and adverse effects on subsequent flights were being estimated, the executive added.
Netizens remarked jokingly that the woman made "the most expensive experiment."
According to online posts, after hearing the alert that the lever for the evacuation slide should only be touched under emergency circumstances, the woman wanted to see what would happen if it was activated under normal conditions.
Flight attendants immediately stopped her, only to find that the slide had already been inflated, unfolded and extended outside. The woman was then handed over to police.
Law experts also said she could face high bills in compensation from the airline company.
On March 25, 2016, a passenger on board a China Southern jetliner also activated an emergency slide, resulting in a flight delay. The passenger was investigated by police.