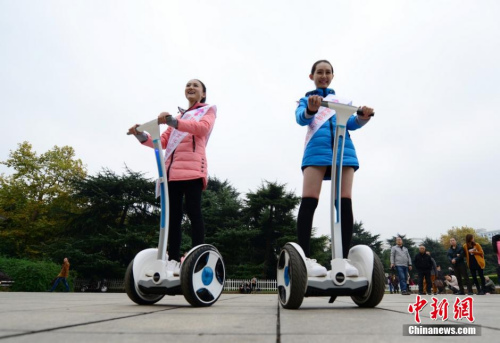 Two girls ride electric scooters on the road. (File photo/Chinanews.com)
(ECNS) -- As self-balancing scooters become popular, China's quality safety watchdog is warning of risks that could be deadly to riders, Yangtze Evening News reported.
Defective Product Administration Center at the General Administration of Quality Supervision Inspection and Quarantine said injuries from falling, explosion and electric shock are the major risks that consumers could face using these scooters. It urged users to buy scooters certified by China Quality Certification Center.
A study by the quality supervision watchdog in Jiangsu Province found that 25 of 29 sampled products had problems with speed limit signals, power connections and short circuit protection in the charger, which can shorten the service life of the battery and increase the risk of fire and explosion. The study also found two instances of batteries that exploded when hit hard.
A manufacturer in Changzhou City of Jiangsu Province has recalled nearly 30,000 electric scooters due to safety risks.
In Deyang City, Sichuan Province, a woman surnamed Guo said her recharging scooter exploded in a house she rented on April 9, causing 50,000 yuan ($7,400) in damage. Guo was still negotiating with the scooter maker over compensation through her lawyer.
Experts call for users to wear helmets and refrain from riding the battery-operated toy on roads meant for vehicles.