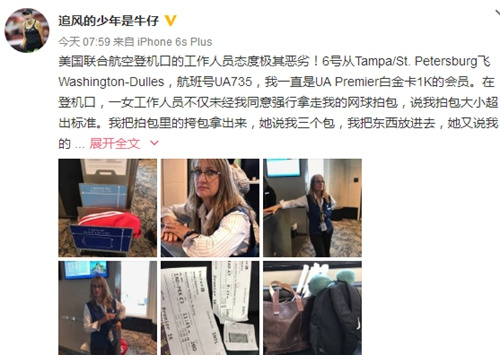 Screenshot from Zhang Shuai's Weibo account.
(ECNS) -- Chinese tennis player Zhang Shuai has complained of bad passenger service on United Airlines, saying she was harassed and her boarding card was torn in a dispute.
Zhang said on her microblog Sina Weibo site that a staff member took away her tennis bag without approval, saying it was too large and needed to be registered as checked baggage while she was waiting to board flight UA735 from Tampa-St. Petersburg to Washington Dulles on Tuesday.
She said her tennis bag met the size requirements to be carried on the plane but the female staff member intentionally opened it to the maximum and then took a picture to show it violated the requirement.
The staff member also took away her boarding card and passport in the dispute, saying she could not carry the bag with her or she would be barred from boarding the plane, Zhang said.
While she finally agreed to check in the tennis bag, she also faced other obstacles. The staff member demanded that she split her five rackets and two small suits into seven separate items of luggage.
Zhang, a UA Premier Elite 1K member, said she couldn't believe airline staff had such a terrible attitude. "This only proves again the widely known bad manners and behavior of UA as shown in dragging a passenger off of a plane in the past."
She shared pictures of the staff member on her Weibo, which was forwarded over 2,270 times and received 5,230 "likes".
Zhang lost to Svetlana Kuznetsova in the third round of the French Open.