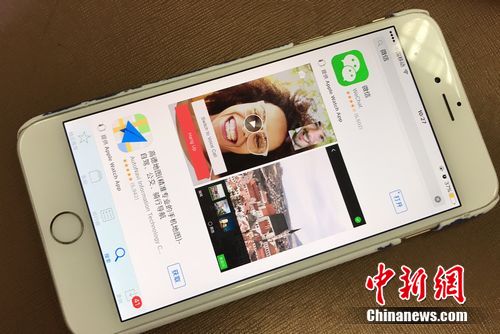 A WeChat app in an iPhone. (Photo/Chinanews.com)
(ECNS) -- Zhang Jun, PR director of China's IT giant Tencent, has refuted speculations that China's popular messaging app WeChat might be removed from the Apple Store if both companies fail to reach a consensus, saying it's a fabrication.
The reported rumor said Apple told developers to remove the "hot code push" service before any further WeChat update is approved. The service allows developers to update their applications after they have been submitted to the app store and approved, which is against Apple's restricted ecosystem.
An online post said Apple has increased its firepower against Tencent following tension over the shutdown of WeChat's in-app tipping service on iPhones. "The new 'hot code push' ban means WeChat might be removed from the Apple Store if the two companies fail to reach an agreement."
In response, Zhang wrote on his official microblog that "Everything is fine. Thanks for the concern. I am shocked to read such imaginative news. Why don't you work as a playwright?"
He also added that the latest Apple Worldwide Developers Conference actually presented many examples of joint cooperation between Tencent and Apple on security, WeChat and games.
Apple released a new rule in April which banned developers from including "like" buttons or links that direct customers to purchasing systems outside of its iOS ecosystem.