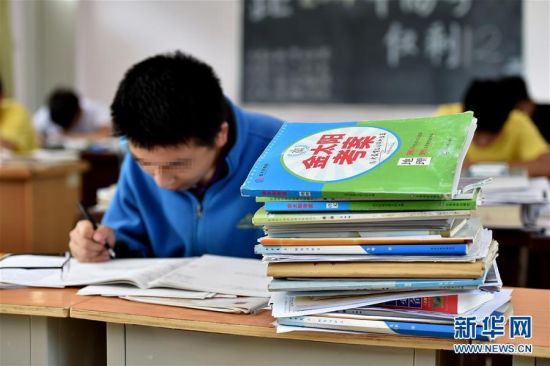 Students in Linfen Red Ribbon School prepare for the national college entrance exam, May 25, 2017. (Photo/Xinhua)
(ECNS) -- Local authorities in Linfen City, North China's Shanxi Province, have defended the decision of a school offering separate testing venues for students infected with HIV who are taking the national college entrance exam, or gaokao, out of respect for the concerns of healthy students.
Sixteen students from Red Ribbon School in Linfen will take the upcoming gaokao test at the school's two newly opened standard venues, rather than joining students at other sites.
The decision has provoked discussion on the Internet. Opponents say the separation reinforces prejudices and discrimination against HIV/AIDS patients, as testing together in the same room poses no risk of infection.
Kang Chuangji, director of the student admission office in Linfen, said that by using separate test rooms they are simply taking into consideration the concerns of other students. Kang also said the decision received approval from educational authorities in the province.
Kang said the HIV carrier students only study at Red Ribbon School but are actually registered with the city's No.3 High School.
Red Ribbon School is the only facility in China that provides education and medical treatment to children living with HIV or AIDS. Established on Dec. 1, 2011, the school now caters to 33 students. All their expenses are covered by the school.
The province has not provided guidance regarding university applications or admissions for the HIV carrier students, Kang added.
According to China's Regulation on the Prevention and Treatment of HIV/AIDS, no entity or individual may discriminate against people with HIV/AIDS or their family members. The lawful rights and interests enjoyed by people with HIV/AIDS, and their family members in marriage, employment, medical treatment, and education, shall be protected by law.