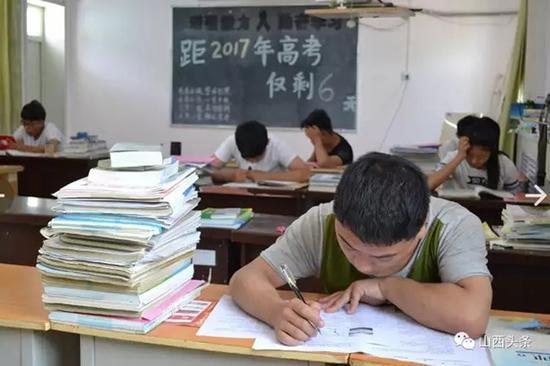 Students in Linfen Red Ribbon School prepare for the national college entrance exam, June 1, 2017. (Photo/WeChat account of Shanxi Evening News)
(ECNS) -- China will allow high school students who are living with HIV to take the gaokao, or national college entrance exam, at separate test venues for the first time in the country, Shanxi Daily reported.
Sixteen students from Red Ribbon School in Linfen City, North China's Shanxi Province, will take the upcoming gaokao test at the school's two standard venues. The students, 11 male and five female, began studying here in 2004.
Guo Xiaoping, its headmaster, said it is of historical significance to set up such an exam room.
The Green Harbor Red-Ribbon School is the only facility in China that provides education and medical treatment to children living with HIV or AIDS. Established on Dec. 1, 2011, the school now caters to 33 students. All their expenses are covered by the school.
But people with HIV still face discrimination despite such social progress. Healthy students could have concerns about taking the exam in the same venue, said Guo.
"At my suggestion, our school was given the go-ahead to offer separate test venues," he said.
In 2011, the school got approval from the local education authority to provide compulsory education. Since its founding, only one student has died from the disease, the most heart-breaking memory for the 55-year-old headmaster.
Now it has 33 students ranging from elementary to high school who enjoy free food, accommodation and medical cover.
Senior students usually begin studying at 5: 40 a.m.. The big countdown at the school shows only several days left for the make-or-break test crucial to many in getting ahead in life.
"There are so many questions in my mind as Gaokao approaches. I wonder if the university will open its doors to me, if teachers will treat me the same as other students, or whether my classmates want to study or live with me," wrote a student at the school.
"But it's my dream to go to university and return the love to those who cared for me," the essay added.