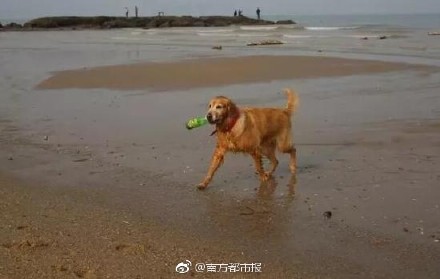 The 8-year-old golden retriever "Tiger" holds in its mouth a waste bottle found in the coast water in Xiamen, Fujian Province. (Photo/Weibo account of Southern Metropolis Daily)
(ECNS) -- For three hours, a dog ran here and there picking up waste cans, abandoned slippers and floating plastic bags in the seawater at tourist attraction Zengcuoan Village in the coastal city of Xiamen, Fujian Province.
The 8-year-old golden retriever named Tiger has become an online celebrity for its dedication to cleaning the beach over the past five years. A video featuring its efforts has been viewed more than 70,000 times.
The dog first showed a keen interest in picking up floating objects five years ago on its birthday, said its owner Shen Xin.
Shen said she bought the dog online for 800 yuan and believes her pet is very clever, sensitive to the moods of people, and of course environment-friendly.
Whenever Tiger spots garbage in the seawater, it will rush to pick it up and bring it back, said Shen. But as it grew old, the dog lost some of its vision and is showing other health problems.
Shen said she hopes Tiger can live for a long time and inspire more people to protect the environment in Xiamen.