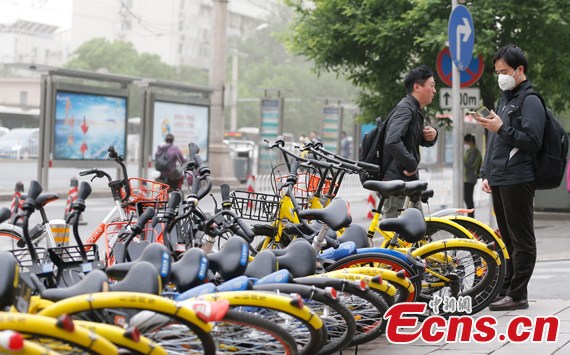 Shared bikes are blown down by gales in Beijing, May 5, 2017. (Photo: China News Service/Liao Wenjing)
(ECNS) -- A growing number of cities, residential communities and schools have rolled out rules to regulate the use of shared bikes as their increasing popularity has caused various problems, China Youth Daily reported.
Lanzhou City in Northwest China's Gansu Province has designated areas that allow or ban parking of shared bikes in downtown areas. It also stopped the addition of more bikes on streets until a formal policy on their management is adopted.
Other cities including eastern Hangzhou, Qingdao and southern Shenzhen also raised the red flag on shared two-wheelers at some popular tourism attractions during the past May Day Holiday.
Schools have also placed restrictions on their use. Dongguan-based Guangdong Innovative Technical College closed its gates to riders of shared bicycles on May 1. Shenzhen University also planned to banish shared bikes rented from certain companies in January to maintain order, but it put the plan on hold at the suggestion of students. Jinhua Campus of Xi'an Polytechnic University now forbids shared bikes.
Many residential communities in Beijing and Shanghai have begun to ban shared bikes, mainly to keep parking spaces for cars.
Driving restrictions on shared bikes are concerns for safety or the impact on traffic. Near Futong Subway Station in Beijing's Chaoyang District, shared bikes parked randomly on the streets became a headache for both pedestrians and car drivers.
China's bike sharing market reached 1.23 billion yuan ($180 million) in 2016 with 28 million users, with Mobike and Ofo accounting for 57 percent and 30 percent of market share respectively, according to a report by iMedia.
Wang Hao, deputy director of a research center at the Ministry of Transport, said management of shared bikes needs the joint efforts of governments, companies and the public.
But Zhu Wei, a researcher of communication law at China University of Political Science and Law, urged the government to first ensure space for the parking of bicycles as there are already enough consideration for buses and cars.
Beijing introduced a draft rule on the administration of shared bikes on April 21, becoming the fifth city after Shenzhen, Chengdu, Shanghai and Nanjing to formulate such regulations.