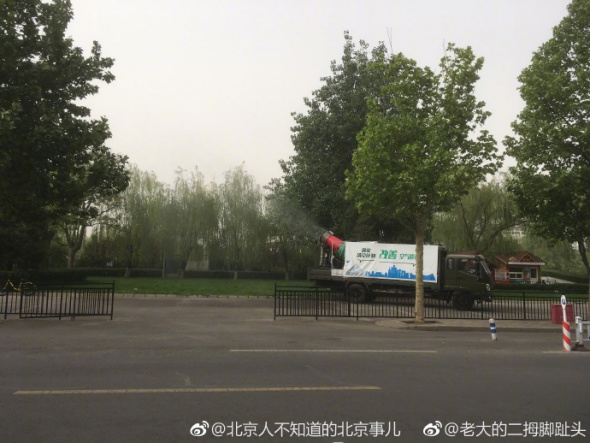 A mist cannon sprays water at an air monitoring station in Beijing. (Photo from Weibo)
(ECNS) -- Beijing Municipal Environmental Protection Bureau has vowed to take a zero-tolerance stance toward data fraud in gauging air pollution.
The bureau made the statement after photos of a "mist cannon" spraying water at an air monitoring station went viral online, provoking speculation that Beijing's official data for air pollution could be manipulated.
Mist cannons, large truck-mounted machines that spray tiny droplets of water to suppress fine airborne particles, were initially used at construction sites and mines to reduce dust. Now many cities use them to dispel lingering pollution.
If the cannon is used near air monitoring stations, data collected could be inauthentic.
The bureau said it is committed to ensuring environmental data to be "accurate, reliable and truthful".
It will launch an investigation into the case.