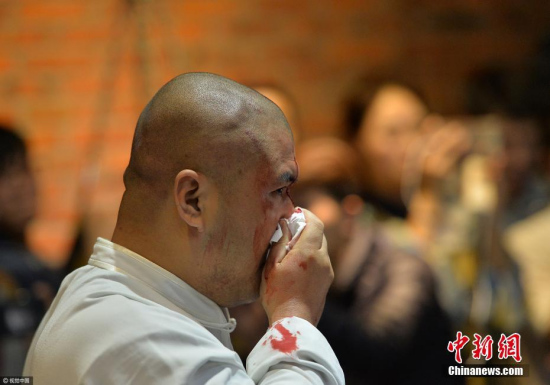 Tai chi master Wei Lei was beaten till bloody in the fighting with mixed martial arts (MMA) fighter Xu Xiaodong (not in the picture) in Chengdu City, Sichuan Province. (Photo/VCG)
(ECNS) -- The Chinese Wushu Association on Wednesday night said it absolutely opposes "arranged private fights" following a mixed martial arts (MMA) fighter's high-profile challenge to a tai chi master, which it called a breach of tai chi morality and suspected violation of law.
The statement came after Xu Xiaodong became one of the hottest topics on Chinese social media for delivering a lightning-fast takedown of "thunder-style" tai chi master Wei Lei, stirring debate about competition between traditional martial arts and modern MMA.
After beating Wei, Xu threw down the gauntlet in a challenge to others, including professional Chinese boxer Zou Shiming and the bodyguard of billionaire Jack Ma.
Martial arts in China have a great variety of schools and different styles, with 129 types currently recognized, the association said.
Irregularities in current practices of martial arts along with fraud and other illegal conduct need to be addressed in accordance to law by relevant authorities, and there should be no act violating martial art moral codes or aggressive challenges to cause sensation, it was added.
The association vowed to strengthen administration of martial arts and regulate competitions.
It also said as traditional sports, martial arts are a form of Chinese culture that still enjoy wide support among the people and the practice can help build up heath and cultivate one's mind. Martial arts play a unique role in promoting Chinese "soft power" in the world, the statement read.
Mixed martial arts fighter Xu Xiaodong (R) challenges tai chi master Wei Lei in Chengdu City, Sichuan Province. (Photo/VCG)