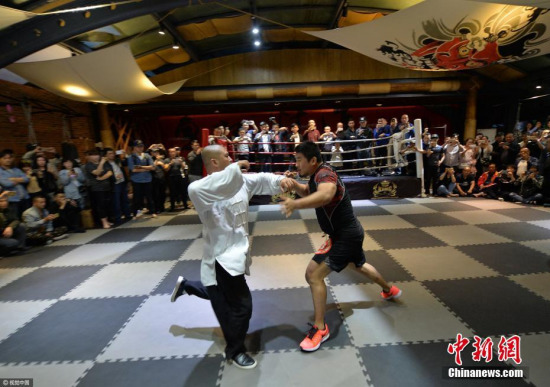 Mixed martial arts fighter Xu Xiaodong (R) challenges tai chi master Wei Lei in Chengdu City, Sichuan Province. (Photo/VCG)
(ECNS) -- Several Tai chi masters have agreed to challenge mixed martial arts (MMA) fighter Xu Xiaodong after the retired boxer was shown to throw down tai chi master Wei Lei in Chengdu City, Sichuan Province in less than 20 seconds in a video clip.
Many Chinese traditional martial arts masters, including Wang Zhanhai, a descendant of Chen Village, and Lu Xing from Sichuan, decided to challenge Xu.
He accepted these challenges and promised 1.2 million yuan ($174,000) in reward to the winner.
An apprentice of Wang Zhanhai said the master is preparing for the competition, and that a disciple may be sent for the battle.
Lu also said he had an 80 percent chance of winning the competition. "We have learned Chinese material arts for more than 20 years," he said, adding that Xu's kung fu was easy to understand.
Kung fu star Jet Li showed support for the Taichi masters' challenge to defend the honor of traditional martial arts.
Xu's win set off a debate over the virtues of traditional versus modern fighting techniques.
Xu set rules for the upcoming battles, saying he could only be defined as the winner after defeating two to three tai chi masters. Competitors can not wear any protective clothing, and there will be no action restrictions. Each battle needs to be completed within 10 minutes - any bouts exceeding the time limit would be deemed a draw.
Guo Chendong, Xu's partner and also the creator of Glory of Heroes, a popular Chinese TV martial arts competition series, confirmed his decision with Chinese media on May 1, adding that he supported Xu's decision to accept the challenge.
"Many people learn traditional Chinese martial arts, which are part of the country's cultural heritage, from childhood. However, some use Chinese martial arts to practice fraud," Guo said, adding that he hoped to use the opportunity to build a platform to combat such practice.
However, lawyers have warned of the potential legal liabilities for such fighting. Wang Yuefei, a lawyer in Taiyuan of Shanxi Province, said if the fighting causes injury, the act may breach criminal law even if all sides have agreed to compete.