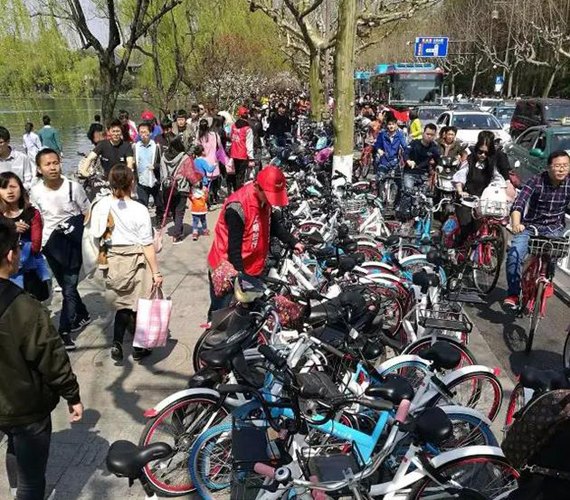 Bikes are disorderly parked at a scenic spot in East China's Hangzhou City. (Photo/Qianjiang Evening News)
(ECNS) -- Ahead of the May Day holiday, authorities in East China's Hangzhou City have rolled out temporary rules to manage the use of non-motor vehicles, including shared bikes.
As one of China's top tourism destinations, the capital city of Zhejiang Province is expected to see a flood of tourists over the holiday from April 29 to May 1, along with increased traffic pressure.
The new rule makes it clear that shared bikes should not be parked in core areas such as West Lake, Wulin Square, Xixi Wetland and Hangzhou CBD.
The rule bans the parking of non-motorized vehicles on roads designated for cars. Parking of these vehicles should not affect pedestrians, sidewalks for the blind, or fire hydrants.
It also bans parking of non-motorized vehicles at or near tourist attractions, including Leifeng Pagoda, Yue Temple, Taiziwan Park, and other high traffic places.
The circular, jointly released by four departments in Hangzhou, will be valid during the three days.
Hangzhou also urges companies that provide shared bikes to help implement the rules and help ensure orderly traffic during the holiday.