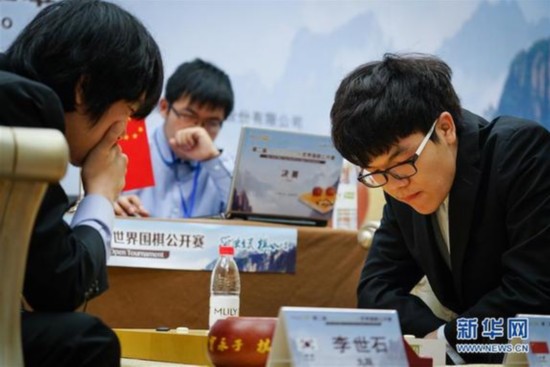 The photo shows a match between Ke Jie (R) and Lee Sedol in Jiangsu Province on January 4, 2016. (Photo/Xinhua)
(ECNS) -- After beating professional Go player Lee Sedol of South Korea in 2016, Google's artificial intelligence program AlphaGo will challenge top Chinese player Ke Jie in Wuzhen, a town in east China's Zhejiang province, from May 22 to 27, the Wuhan Evening News reported on Friday.
This year an updated version, AlphaGo2.0, will compete, and the winner will be decided in three games instead of five, according to the newspaper.
China's chess academy will hold a press conference on April 10. Team leader Hua Xueming did not deny speculation that detailed information about the challenge would be released then.
After AlphaGo beat Lee last year, Ke wrote in a Weibo message that "AlphaGo was able to beat Lee Sedol, but not me!"
Ke later won a world championship. But in late December, Master, or AlphaGo 2.0, defeated Ke 0:3 during 60 games that also included China's top professional players Nie Weiping and Gu Li. AlphaGo proved unbeatable in all 60 games.