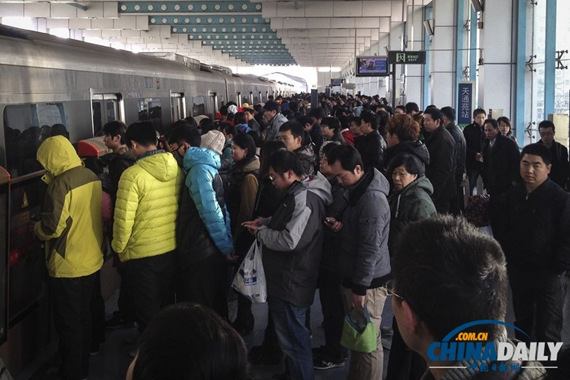 File photo shows crowded traffic at the Tiantongyuan Station of Beijing Subway Line 5. (Photo/China Daily)
(ECNS) -- A court has ordered Beijing subway operators to pay more than 260,000 yuan ($37,700) to a man who was paralyzed in a crowded train during the morning rush hour.
Wang Tao (lias), 55, was pushed into a train of Beijing Subway Line 5 by dashing commuters at Tiantongyuan Station on Jan. 15, 2014, hitting the door on the other side of the train and falling into a coma. He was declared a quadriplegic after receiving emergency medical treatment for five days.
He was also found to suffer from cervical spondylosis, abnormal wear on the cartilage and bones of the neck, for many years before the accident happened.
The high flow of commuters made it impossible to find the direct perpetrators, so Wang filed lawsuits against Beijing Mass Transit Railway Operation Corp., as well as the direct operator of Line 5, requesting compensation of more than 1.9 million yuan.
Subway operators said they fulfilled their duty in providing safety protection by reminding passengers to board trains in an orderly way and also assigning assistants to facilitate crowd flow.
The court in Beijing's Changping District said the two companies failed to give sufficient evidence that they provided reasonable safety protection to passengers during rush hour although they were not the direct reason behind the accident.
The court held the subway operators 20 percent liable and ordered them to pay the compensation.