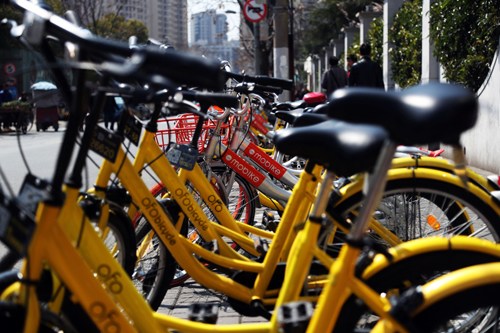 (ECNS) -- The transportation commission in Xicheng District of Beijing has demanded two bike-sharing firms limit the number of bikes placed in the area and improve management.
Shared bikes are banned from parking on 10 streets including Lingjing Hutong and along Xi'anmen Avenue, southern West Huangchenggen, Nanbei Avenue, Fuyou Street, west of the Great Hall of the People and Chang'an Avenue.
The commission said it introduced the policy after five consultations with urban management, traffic control, police and local residential communities.
Bike-sharing firms Mobike and Ofo have submitted letters of commitment promising to actively accept government supervision and promote correct parking.
The firms will use mobile social networking app WeChat and their own apps to advise users not to park their shared bikes in forbidden areas across Xicheng or lose credits.
The district has designated 463 parking spaces for shared bikes.
Shanghai Municipal Transportation Committee has also urged bike-sharing companies to provide more bikes in suburbs and remote areas instead of concentrating them downtown.