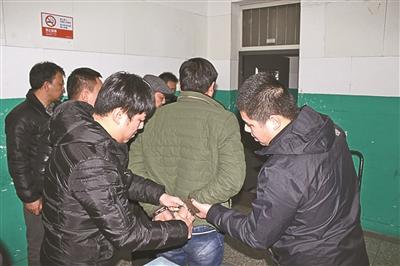 A suspect working for a heating company in Beijing's Mentougou District was detained on March 13, 2017. ( Photo provided by Beijing police)
(ECNS) -- A worker at a heating company in Beijing's Mentougou District was put under administrative detention on March 13 over suspected malpractice that had resulted in excess emission of pollutants into the air.
The detainment was made following joint action taken by Beijing police and the municipal environmental watchdog. It marked the first case of its kind since the city enforced a new rule on administrative detention in environmental law violations.
According to police, inspectors on March 4 discovered that a worker on duty, surnamed Zhao, at a heating supply company violated relevant procedures so that the desulfurization facility of a 4-ton coal-fired boiler failed to function normally, resulting in excess sulfur dioxide and other pollutants.
Mentougou environmental monitoring station later found after testing that sulfur dioxide emitted from the boiler was 10 times more than what the existing environmental standard allows, and caused pollution of the city's air.
Upon further investigation, police found the company failed to run its pollution prevention facilities normally, tried to evade supervision, and emitted pollutants into the air.
On March 12, Zhao confessed the violation to police and was detained a day later.
The environmental watchdog ordered the company to rectify its business and punished it with a fine according to law.