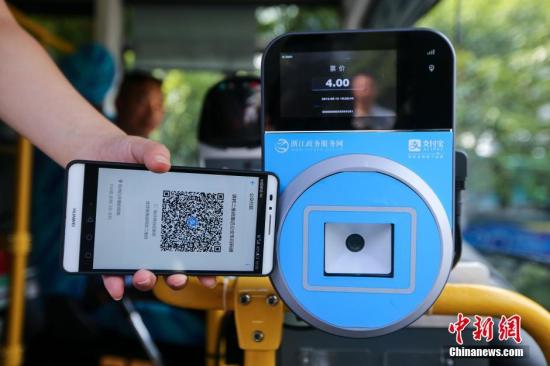 East China's Hangzhou City pilots mobile payment on buses. (Photo/Chinanews.com)
(ECNS) -- More than 70 percent of Chinese Internet users say carrying cash is no longer necessary, as payment methods such as bar-code scanning, China UnionPay and online payments become increasingly popular, Beijing Youth Daily reported.
Using smartphones, people can now register at hospitals online and pay medical fees by scanning bar codes. In some cities like Beijing, most small shops accept cashless payment methods.
People can use Alipay in more than 2 million restaurants and supermarkets, 800,000 parking spaces and 20,000 gas stations, according to Alipay. In addition, people can use Alipay to book tickets for more than 20,000 stadiums nationwide, buy tickets for scenic spots in more than 120 cities, and pay for 50,000 different hotel rooms.
The use of Alipay also covers more than 2,000 bus terminals and will cover more than 3,000 public hospitals in the future.
Pan Helin, an expert at the Chinese Academy of Fiscal Science, said a "cashless society" is experiencing a high speed of development in China. Cashless payment does not mean that people have no cash, he added. It means that the use of cash is replaced by more convenient methods, which allow people to spend without their wallets.
The rapid development of mobile internet and third-party payment methods has attracted many users, including small shops in towns and rural areas. Not only young people, but also some elderly, have begun to accept the new methods, Pan said.
Most mobile payment users live in small cities and towns, accounting for 19.6 percent; 19 percent are in provincial capitals; and 17 percent live in rural areas, according to a mobile-payment user survey conducted by the Payments and Clearing Association of China.
Unlike Western countries, China has developed a new route to becoming a cashless society, based not on credit cards but on mobile payments, said Meng Tian, deputy director of the Institute of Technology and Finance at Shanghai University.
By the end of last year, the average number of credit cards owned by Chinese people had decreased to 0.29 from 0.34 in 2014, according to data from the central bank. The Payments and Clearing Association of China said in a survey that 47.5 percent of users like to use mobile payments, because they do not require cash or bank cards.
Data from Nielsen show that 86 percent of Chinese consumers use mobile payments, topping other countries worldwide.