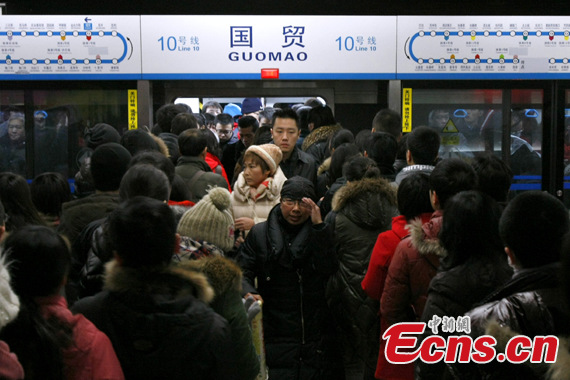 Passengers take Subway Line 10 in Beijing. (File photo/China News Service)
(ECNS) -- Beijing subway lines carry more than 10 million people every day, with the number totaling 3.66 billion in 2016, becoming the busiest in the world, said Zhou Zhengyu, head of Beijing Municipal Commission of Transport.
The network had 19 lines, 345 stations and 574 km of track in operation by the end of last year.
From 2009 to 2013, daily numbers increased by millions. Since 2014, the average daily figure has reached 10 million a day. In 2016, the peak single-day total hit 12.7 million and on average 9.998 million a day.
The capital now guarantees normal operation of subway lines and passenger safety through a comprehensive system that focuses on three aspects – equipment, stations, as well as operational safety and risk management, Zhou said.
According to an evaluation system based on 32 indicators, Beijing divides risks into four levels. Four subway lines -- Line 10, 4, 13 and 5 -- are all overloaded, sometimes at 120 percent of planned capacity.
"Great efforts are being made to guarantee the safety of passengers," it was noted.
Beijing is now renovating passageways to facilitate passenger transfer at three subway stations and also accelerating the installment of platform doors on Line 1 and 2.