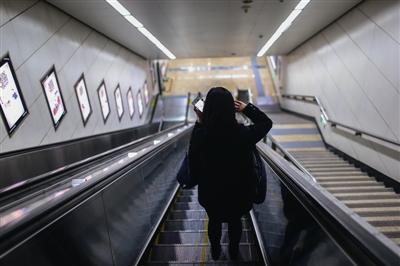 Jiang Jingzi discusses work with her colleague on the way back home. (Photo/Workers' Daily)
(ECNS) -- First a taxi, then the fast train, and finally a crowded subway trip. A woman has to change transportation three times to commute between her home in Cangzhou City of Hebei Province and her office in Beijing, leaving many netizens surprised at her daily expense of 225 yuan ($32) -- and her insistence on continuing the journey for more than a year now.
Jiang Jingzi usually gets up at 6:10 a.m. and leaves home at 6:50 to take a taxi to Cangzhou West Railway Station, spending 14 yuan. Then she will spend 94.5 yuan on the high-speed train leaving at 7:23 to arrive at Beijing's South Railway Station 58 minutes later. Finally, she will spend another four yuan on the subway to finally arrive at her office in southwestern Beijing at around 9:15.
She usually arrives back home at about 8:40 p.m., after doing it all over again in reverse.
Jiang has been commuting like this for over a year. Her monthly transportation expenses reach about 5,000 yuan, but she believes it's the right choice.
She started working in Beijing after graduating in 2009. After paying her rent and other expenses, she usually had little money left.
After she got married to Li Jinze, who works for Beijing Hyundai Motor Co., Ltd., the couple lived near the East Sixth Ring Road, each spending about two hours on one journey to work.
As Beijing, Hebei and Tianjin integrated their development, the auto company built a plant in Cangzhou City, where Li was transferred to work in 2015. At first the couple's one-year-old child was left in the care of their grandparents in Beijing. But the separation was too hard for Jiang, so the family moved to Cangzhou.
Some of
Jiang Jingzi's train tickets in 2016.
(Photo/Workers' Daily)
Jiang is well qualified to find a job in Cangzhou of Hebei Province, but she believes more career opportunities exist in Beijing. She decided to live in Cangzhou and work in the capital city because the two cities are connected by more than 30 high-speed trains each day.
Jiang said she can make more than the locals in Cangzhou, even after spending so much to commute.
Jiang didn't disclose her salary or how much she was subsidized by her employer.
More importantly, Jiang says the long journey is worth it, because it allows her to be with her family every day.