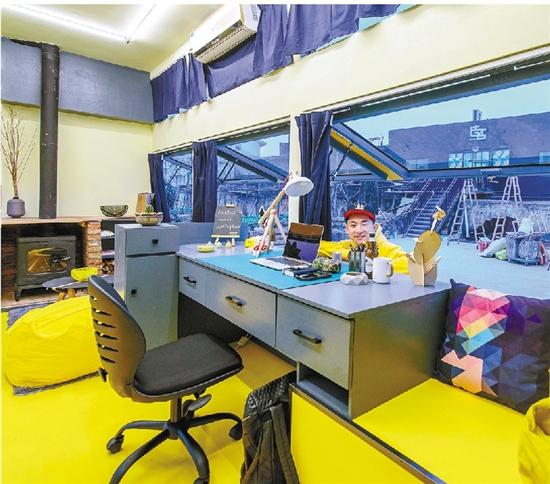 An internal view of the bus-converted house. (Photo/Qianjiang Evening News)
(ECNS) -- Refusing to be a "slave to a home mortgage," a 29-year-old man in Hangzhou, East China's Jiangsu Province, sold his apartment and transformed a decommissioned bus into a motor home at a cost of 200,000 yuan ($29,000).
Educated in France, the young man likes to be called Fou Fou. He said he is passionate about working in art, so "the last thing he wants is to work to pay off loans on a house or car," reported Qianjiang Evening News.
Fou Fou said he purchased the double-decker bus with 8,000 yuan but spent 200,000 yuan on refurbishment in a month.
With an interior space of less than 30 square meters, the bus is divided into several zones including a kitchen, a living room, an office and a toilet, all essential components of a single person's residence.
Decorated in bright yellow colors, the motor home's best feature is a fireplace to create a cozy charm, he said.
Fou Fou majored in modern art and has worked in installation art and sculpture after returning to China in 2013.
His parents covered the down payment of 1 million yuan for a 100-square-meter apartment and he faced a mortgage loan of 4,000 yuan a month.
In June 2015, he sold the house without seeking his parents' approval, then used the money on an artistic startup venture.
Fou Fou plans to turn a factory in Hangzhou's Yangjiapailou area into an art zone and attract artists to work there.
An internal view of the bus-converted house. (Photo/Qianjiang Evening News)
He said he thinks the most important thing in life is to feel satisfied, rather than following trends to blindly buy a house or car.
"My bottom line is to remain imaginative about life's possibilities," he said.