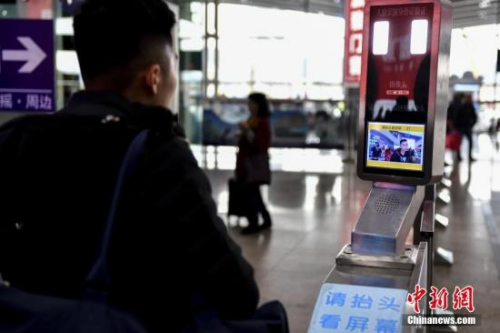 A passenger enters the hall via a facial recognition machine at a railway station. (Photo/Chinanews.com)
(ECNS) -- Some Chinese railway stations are offering "face swiping" check-in services to cope with the Spring Festival travel rush, which began on January 13.
Automatic fare-collection gates at railway stations in Beijing, Shanghai, Guangzhou, Zhengzhou, Taiyuan, Wuhan, Nanchang, Xi'an and Changsha can scan passengers' faces and compare the information to ID photos. If ticket information and facial features all conform to IDs, admission is granted immediately.
Check-in with the facial recognition technology usually takes three to six seconds.
Passengers who hold red tickets and discount tickets are still subject to manual check-in for document verification purposes, according to the Beijing West Railway Station.
Passengers are also advised to place their IDs and tickets properly. They must also remove masks, hats, glasses and other items that might cover their faces.
"So far, face swiping has seldom failed," said an employee at the railway station. Automatic recognition only failed on passengers whose facial features had changed dramatically since they applied for ID cards.
Chinese Business View said passengers who had their heads shaved recently had to go through traditional check-in. Generally, there was no problem with makeup, as long as it did not result in an age difference of more than ten years compared to ID photos, while plastic surgery did adversely affect facial recognition, according to experts.
A tech source said that if a scanned photo is less than 75 percent similar to the ID photo, manual check-in is required.