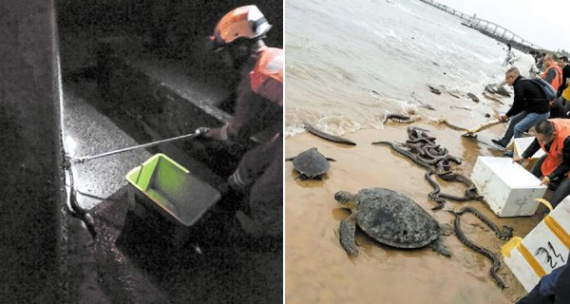 This combo photo shows a firefighter captures a freed snake at night (L), and people release snakes, turtles and other captive animals by the seaside. (Photo/caijing.com.cn)
(ECNS) -- Firefighters have rushed to capture snakes, turtles and other captive animals freed in "mercy releases" on a beach to mark New Year in southern Chinese city Haikou, Hainan Province.
Freeing captive animals is an age-old religious tradition said to bring good luck. Some monks joined the ceremony to release animals into the wild on Jan. 1.
Tourists at the beach later called police for help after they found the animals, including pythons slithering in the sand. By 7:15 pm, five live snakes were caught, but some other animals had already died.
Many Haikou residents buy red-eared terrapins to set free, a practice they believe can fight evil spirits and ward off disaster.
Experts say the practice hurts the environment and other animals. The red-eared terrapin is an invasive species that can be harmful to native fish.
Han Yuanjun, an official at Haikou's forestry department, said the practice can lead to the death of animals, potentially spread disease, and fuel illegal trade of wild animals.