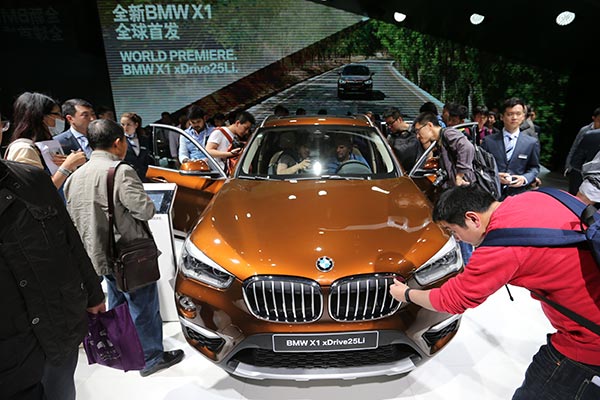 Visitors inspect the BMW X1 at this year's Beijing auto show in April. WANG ZHUANGFEI / CHINA DAILY
(Ecns) -- China is likely to collect consumption tax on luxury cars worth 1.2 million yuan ($174,700) or more, according to a report by Shanghai-based China Business News.
A source revealed to the newspaper that an additional tax of 10 percent is expected to be levied on dealers for passenger cars to guide the market.
Liu Shuangliang, an official with the Chamber of Commerce for Automobile Dealership of All-China Federation of Industry and commerce, confirmed that the government is mulling related plans, but the standard for taxed cars and the rate are still not fixed.
China started to collect consumption tax in 1994 on the transaction of designated consumer goods, including automobiles, in order to guide consumption. The tax could be on producers, importers or retailors dependent on the goods and were included in the final prices.
The current policy taxes passenger car makers with a differentiated rate from 1 to 40 percent depending on the cylinder size of the vehicle.
Hu Yijian, head of the Institute for Public Policy and Governance at Shanghai University of Finance and Economics, said the shift from producers to dealers is a trend of future tax reforms.
In the taxation on luxury cars, whether there will be a double-collection, namely both on the producers and dealers of the same car, is open to further discussion, Hu added.
He also noted that the new tax may send a signal to the market for similar taxes on other luxury products.
Liu believes the move wouldn't bring a panic buy of luxury cars as consumers are sensible enough to make a choice.
He said the majority of car buyers won't be affected by the policy as most medium-level imported cars cost less than 1 million yuan.